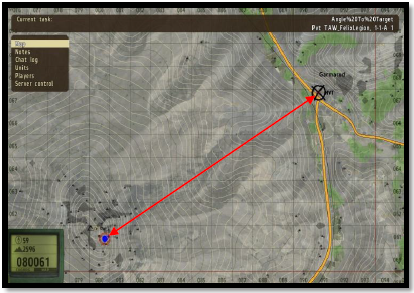 Attention all snipers: Being in a position much higher (or lower) than your target means your line of sight range does not reflect the actual distance your round will travel! Don't worry, we'll handle all the math. Now you'll be able to quickly and accurately account for this variable during zeroing.
This calculator factors in the angle to target affecting your shot and all you need is a rangefinder/laser designator and map. Don't wait until your team is counting on you — bookmark this tool on your mobile device by scanning the QR code below.
Instructions: Enter the line of sight range as seen through your optic system. In the next two fields, input the elevations of you and your target read from your map. Finally, click "Calculate" to determine the actual distance to target.
How does it work?
As illustrated in the appendix of our Sniper Operations Manual, as you increase your elevation relative to your target the actual distance your bullet will travel is less than the line of sight distance you see through your rangefinder. In short, a right triangle is formed between you, your target, and this difference in elevation, so we employ Pythagorean's Theorem to calculate an accurate distance to target.
Use this tool in the field!
Navigate directly to this page on your mobile device by scanning this QR code: